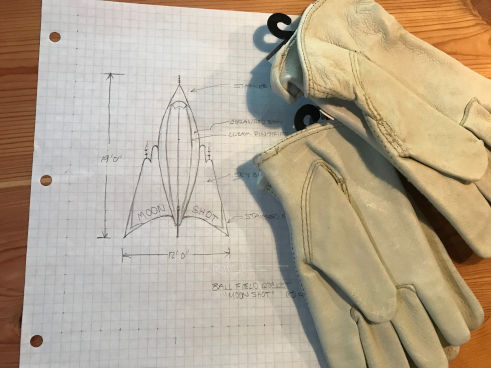 Moon Shot, is a new public art sculpture project that has been finalized for the Santa Fe Arts and Culture Department, to be installed in line with Home Plate at the baseball field at the Municipal Recreation Complex, Santa Fe, NM.
My inspiration for this project is a ball player named Wally Moon who, in the 1950s, earned baseball fame for hitting homers over a 42 foot tall fence.  This is where "Moon Shot" comes from.  Here's the pertinent paragraph from
his Wikipedia page
:
After the 1958 season, the Cardinals traded Moon to the Dodgers for outfielder 
Gino Cimoli
. Both players were coming off years when they batted below .250; the Cardinals also sent pitcher 
Phil Paine
, who never played for the Dodgers. Moon was initially concerned about batting in the converted 
Los Angeles Memorial Coliseum
 because right field was 440 feet (130 m) away, making it difficult for a left-handed batter. However, the left field seats were only 251 feet (77 m) away, protected by a 42-foot-high (13 m) screen. After consulting with friend and mentor 
Stan Musial
, Moon adjusted his batting stance to emphasize hitting to left. The results were very successful.
[1]
 In his first season with the Dodgers, the team won the 
World Championship
. Moon provided support in the lineup for 
Duke Snider
, 
Gil Hodges
 and 
Don Demeter
. He gained quick public acclaim in 1959 for the "Moon shots" that he hit over the high left field screen.
[1]
[2]
 Moon hit a home run in the sixth and final game of that World Series, which the Dodgers won over the 
Chicago White Sox
. He also caught 
Luis Aparicio
's fly ball for the final out of the Series.