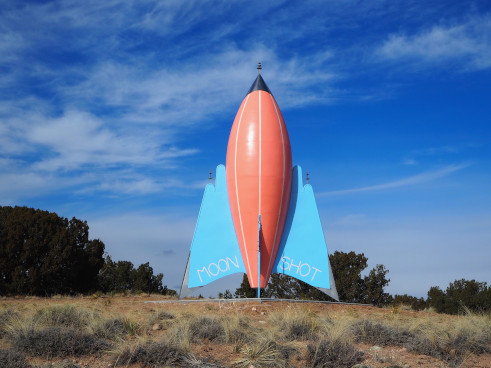 The Vision
Moon Shot is a new public art sculpture project for the Santa Fe Arts and Culture Department, Art in Public Places.  It has been installed in line with Home Plate at the baseball field at the Municipal Recreation Complex in Santa Fe, New Mexico.
My inspiration for this project is a ball player named Wally Moon who, in the 1950s, earned baseball fame for hitting homers over a 42 foot tall fence.  This is where "Moon Shot" comes from.  Here's the pertinent paragraph from
his Wikipedia page
:
After the 1958 season, the Cardinals traded Moon to the Dodgers for outfielder 
Gino Cimoli
. Both players were coming off years when they batted below .250; the Cardinals also sent pitcher 
Phil Paine
, who never played for the Dodgers. Moon was initially concerned about batting in the converted 
Los Angeles Memorial Coliseum
 because right field was 440 feet (130 m) away, making it difficult for a left-handed batter. However, the left field seats were only 251 feet (77 m) away, protected by a 42-foot-high (13 m) screen. After consulting with friend and mentor 
Stan Musial
, Moon adjusted his batting stance to emphasize hitting to left. The results were very successful.
[1]
 In his first season with the Dodgers, the team won the 
World Championship
. Moon provided support in the lineup for 
Duke Snider
, 
Gil Hodges
 and 
Don Demeter
. He gained quick public acclaim in 1959 for the "Moon shots" that he hit over the high left field screen.
[1]
[2]
 Moon hit a home run in the sixth and final game of that World Series, which the Dodgers won over the 
Chicago White Sox
. He also caught 
Luis Aparicio
's fly ball for the final out of the Series.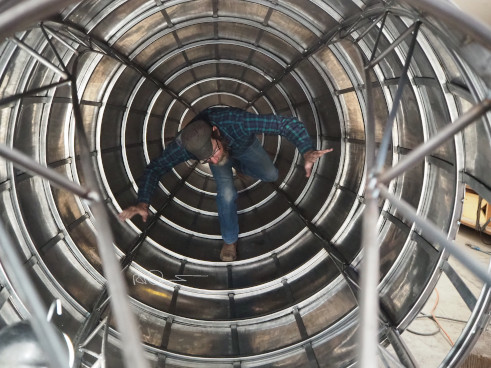 The Process
I like working with steel.  Ordinary run-of-the-mill steel bends and forms easily and precisely, and it is very strong. Welding steel together makes very strong joints.  It is easy to cut out mistakes, or to lengthen a piece that got cut too short.  It can be cold formed—fancy talk for just bending the stuff without heating it—and there are special machines for creating different shapes and bends.  If you heat it until it glows red, you can bend it or twist it or stretch it into any shape.  Once it cools down it goes back to being very strong.
Moon Shot is a curved steel armature that is covered with a shaped-to-fit steel skin.  The only straight line in the rocket body is an imaginary central axis.  The fins are flat, so they were much more straightforward to build.
Go see it for yourself at City of Santa Fe Municipal Recreation Sports Complex (MRC), 205 Caja Del Rio Rd, Santa Fe, NM 87507. Google map and directions
This video shows the construction sequence for the project: