Robert T Davis, "Bob", is an all-around artist. He builds large kinetic metal sculptures; spins the wool from his sheep and weaves with the yarn;  makes linoleum block prints, and makes hand-stamped, tin frames for those prints; paints in acrylic and oils; and designs and builds furniture.
Read more about the artist, and follow his work in progress.
The latest
NEWS! A sculpture completed in September 2022, titled IMPACT, is in the form of a crashed flying saucer. 
IMPACT has been selected as a finalist by the Southwest Artists Series Purchase Initiative, and is therefore in final pool of artwork shown to local selection committees in New Mexico for purchase consideration toward public art projects.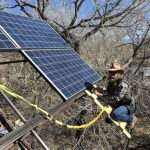 Bob has a YouTube channel with a selection of videos showing a variety of his antics and machinations.
View videos and subscribe to the RTDavis Artist YouTube Channel.