Robert T Davis, "Bob", is an all-around artist. He builds large kinetic metal sculptures; spins the wool from his sheep and weaves with the yarn;  makes linoleum block prints, and makes hand-stamped, tin frames for those prints; paints in acrylic and oils; and designs and builds furniture.
Read more about the artist, and follow his work in progress.
The latest:
MOON SHOT
2022, Santa Fe Municipal Recreation Complex
Recently installed inline with home plate at the Santa Fe Municipal Recreation Complex, the Moon Shot sculpture was inspired by a ball player named Wally Moon who, in the 1950s, earned baseball fame for hitting homers over a 42 foot tall fence.
View details and gallery: Moon Shot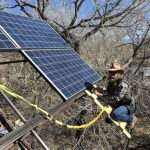 Bob has a YouTube channel with a selection of videos showing a variety of his antics and machinations.
View videos and subscribe to the RTDavis Artist YouTube Channel.