Robert T Davis, "Bob", is an all-around artist. He builds large kinetic metal sculptures; spins the wool from his sheep and weaves with the yarn;  makes linoleum block prints, and makes hand-stamped, tin frames for those prints; paints in acrylic and oils; and designs and builds furniture.
Read more about the artist, and follow his work in progress.
Join us July 24
SCULPTURE ACTIVATION EVENT: Moon Shot
Join us July 24 2022 to celebrate the commission, creation and installation of Moon Shot, a rocket sculpture by Bob Davis.
Moon Shot is a new public art sculpture created for the Santa Fe Arts and Culture Department. It has been installed in line with Home Plate at the baseball field at the Municipal Recreation Complex in Santa Fe, New Mexico.
The inspiration for this project is a ball player named Wally Moon who, in the 1950s, earned baseball fame for hitting homers over a 42 foot tall fence.
Come by to learn more about baseball and rockets, take pictures, and enjoy refreshments and live music. This is an outdoor event rain or shine. Bring hats & sunscreen.
WHEN: Sunday July 24, 2022, 9 am – 12 pm
WHERE: City of Santa Fe Municipal Recreation Sports Complex (MRC)
Google map and directions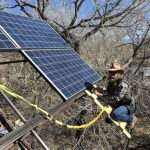 Bob has a YouTube channel with a selection of videos showing a variety of his antics and machinations.
View videos and subscribe to the RTDavis Artist YouTube Channel.