Robert T Davis, "Bob", is an all-around artist. He builds large kinetic metal sculptures; spins the wool from his sheep and weaves with the yarn;  makes linoleum block prints, and makes hand-stamped, tin frames for those prints; paints in acrylic and oils; and designs and builds furniture.
Read more about the artist, and follow his work in progress.
The latest
NEW! A sculpture completed in September 2022. This sculpture, titled IMPACT, is in the form of a crashed flying saucer. It is temporarily installed in Espanola, and is seeking its Forever Home.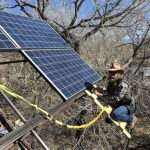 Bob has a YouTube channel with a selection of videos showing a variety of his antics and machinations.
View videos and subscribe to the RTDavis Artist YouTube Channel.