Handmade Felt from Navajo-Churro wool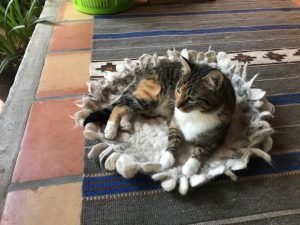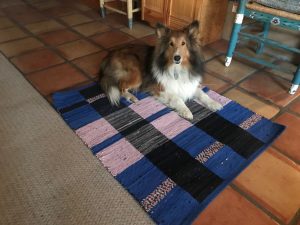 CamaGato
CamaGato are cat beds made from wool directly from our Navajo-Churro sheep flock. The Navajo-Churro sheep breed grow a double-coated fleece: a long, straight outer coat that looks like hair, and a fine, downy undercoat. Unlike fleece of more modern breeds, the wool fibers are straight, long, and found in a variety of diameters from the most coarse to the most fine. This fiber felts easily into a strong and dense felt material that cats (and dogs) love.
There are a great many natural colors in the Navajo-Churro. When Clarity joined Bob on his farm in the Espanola Valley, she was enamored by the colorful sheep, and noticed how much the cats love the smell and feel of the wool fiber. This was the beginning of CamaGato.
Each CamaGato is unique and created from 100% home-grown wool. Clarity makes each bed by hand, using the raw wool we shear from our Navajo-Churro sheep. The wool is hand-picked to remove seeds and hay bits. Then the raw, un-carded wool fiber is laid out and roughly felted by hand into a round pre-felt. This pre-felt is then hard-felted using Thumper, a mechanized felting machine, designed and manufactured by Bob Davis for the Espanola Valley Fiber Arts Center.
Contact Clarity by email via  riograndeweaving @ gmail.com to order your own CamaGato, made to order.
CamaGato Rugs
In addition, Clarity channels her passion for repurposing discarded items into weaving rag rugs. Her CamaGato Rugs are washable rugs for pets and humans alike. Hand woven on a loom from repurposed cotton and cotton/poly blend fabric, each rug is one of a kind. Machine washable.